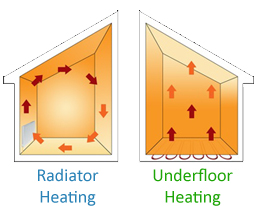 How It Works
Wet underfloor heating circulates warm water through a succession of continuously looped pipes beneath the floor, providing a comfortable level of heating whilst keeping running costs low. By offering a full surface coverage of piping, this system will provide a consistent source of warmth, with no need for supplementary heating.
It is one of the most modern ways of heating your home it runs at a low temperature of 40-55 degrees, instead of the 80 degrees used in traditional heating systems. Using conduction & natural air radiation, heat emitted from the floor will rise and ensure an even temperature throughout the space. In contrast, traditional radiators working on convection, allowing heat to accumulate at ceiling level.
The Benefits
Space saving – removes the need for radiators
Energy efficient – low running cost & reduced CO2 emissions
Silent running
Even heating throughout the floor area
Flexible installation – can be adapted to any space requirement
Ideal to work with renewable energy
Easy to control – manage different areas of the house independently
Underfloor heating can be installed on any floor structure with a variety of finishes available to suit any requirement. We provide bespoke CAD designs for each individual project.
Should you require any more information or would like a free site survey, please don't hesitate to contact us.